Zelos Nano Kit Aqua Blue 2ml 1600mAh
Zelos Nano Kit Aqua Blue 2ml 1600mAh
Zelos Nano Kit Aqua Blue 2ml 1600mAh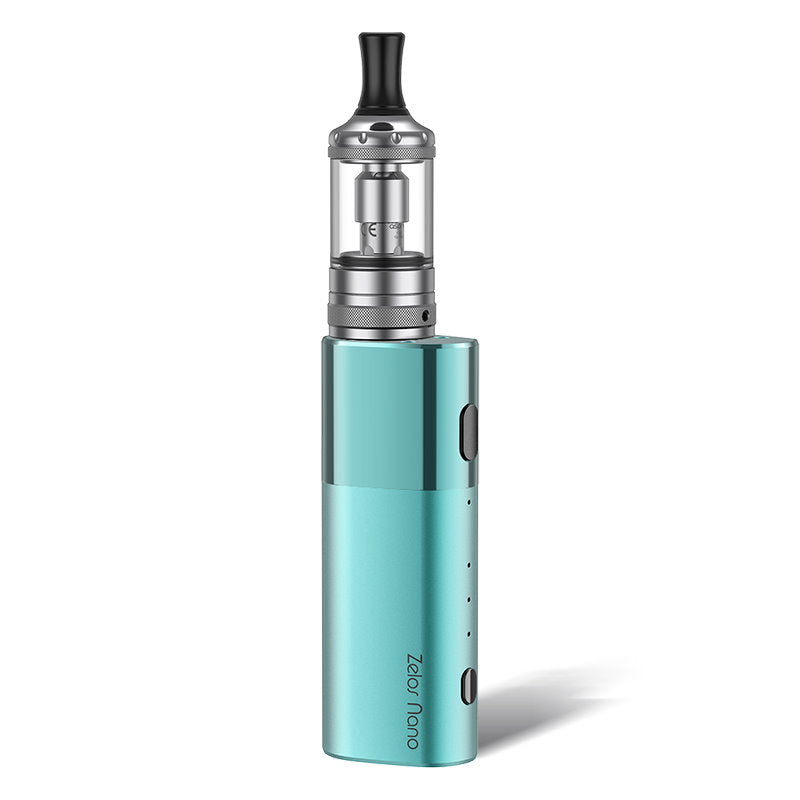 The Zelos Nano kit is the ultimate starter kit designed for MTL vaping. The Zelos Nano kit includes a 1600mAh Zelos Nano mod and the Brand New Nautilus Nano Tank. Alongside the brand new Nautilus Mesh Coil 1.0Ω and precise airflow adjustment, this unique portable starter kit offers excellent performance, with a smooth and flavoursome vaping experience.

Coils for this tank:
Always leave your coil to soak for 10 minutes in your tank before you use it.
Product Info:
Battery Capacity: 1600mAh
Draw Type: MTL
Charge Rate: 1 Amp
Charge Method: USB Type C
Wattage Range: 13-15W
TECH SPECS:

Premium aluminum alloy body, providing an exceptionally pleasant hand feel
Convenient top fill
Bottom adjustable airflow

Compatible with all Nautilus BVC coils over 0.7Ω



Precise airflow adjustment
Tank capacity: 2ml
Big battery capacity: 1600 mAh
Equipped with an auto wattage detection mode,determines the optimal output wattage based on the coil's resistance;
Type-C

 

1A charging
Codour: Aqua Blue

Output mode: VW/ Bypass
Adjustable wattage range: 13W/14W/15W(1.0Ω); 9W/10W/11W(1.8Ω)
Aspire ASP Chipset
WHAT'S IN THE BOX?
1x Zelos Nano Mod (1600mAh)
1x Nautilus Nano Tank (2ml)
1x

 

Nautilus Mesh Coil 1.0Ω (preinstalled)
1x

 

Nautilus Coil 1.8Ω
1x

 

Spare Glass Tube
1x Type-C Cable
1x O-rings Pack
1x User Manual
DO NOT CHARGE VIA PHONE PLUG! You can use any 1amp or below plug or car charger but this must be 1amp or below. 
WHAT YOU CAN USE:

LAPTOP

TV

COMPUTER

GAME CONSOLE 

ANY 1AMP OR BELOW PLUG
CLICK HERE to add a 1amp plug to your order.
Disclaimer


Return Policy!
The Following items may be returned if found to be faulty due to manufactures defect only. Batteries—3month warranty with us. Up to 6months with some suppliers direct.
You must have the box your device came in, or a photo of the serial number, as suppliers request this when raising a service issue.
We cannot accept returns on items that are defective due to misuse or general wear & tear.
Tanks & Coils– are consumable items and therefore are not covered by a warranty unless they are found faulty immediately after purchase.
E-liquids– Due to hygiene reasons E-liquids cannot be returned once opened or removed from our premises.
We do not accept returns for unwanted items

Mr Fish LTD Trading as 'Vapes' Company number 97918