Freemax Fireluke 3 904L X1 40-80W X5
Freemax Fireluke 3 904L X1 40-80W X5
Freemax Fireluke 3 904L X1 40-80W X5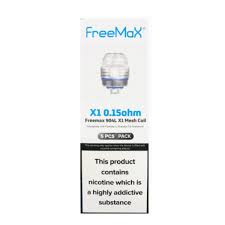 The innovative 904L X Mesh Coil is designed for Fireluke 2/Fireluke 3/Fireluke Mesh tank. This coil uses new Mesh Wire which widely contacts cotton, absorbs oil effectively and provides saturated flavour. 
These coils are compatible with High VG E-liquids and are for direct to lung vaping.
Wattage: 40-80w 
Ohms: 0.15ohm
Pack of 5
Always leave your coil to soak for 10 minutes in your tank before you use it.